"Everyone's battle-weary, but we can't stop. It's the new normal. We're going to be doing this a long time. Wait 'til cold and flu season gets here."
– Lenda Greene, New Mexico Medical Reserve Corps
At the Little Sisters of the Poor's Villa Guadalupe facility in Gallup, New Mexico, the pandemic situation was dire. Lenda Greene, who works for the New Mexico Medical Reserve Corps, has been in charge of the international Catholic organization's facility since April, and the former Marine heeded the call for heroes. The problem began when staff had to quarantine because of the pandemic or were too fearful to come to work. "Whenever this pandemic hit, the Little Sisters had no place to turn," said Greene. "They still had people to take care of and not enough hands on deck. They sent out an SOS—I got emails from five different people saying, 'We need help now!' I was like, 'Let's do this. Let's go in there.'"
Greene, a trained EMT, firefighter, hazardous materials technician and former police officer, has been dealing with a shortage of N95 masks. "When I first got here in April, donations were rolling in like you wouldn't believe," she said. "Now it's stopped. We got some help from the stockpile, but we have a very vulnerable population and not enough N95s. We asked for more. They said, 'Use what you have.' In the meantime, we're going to be OK because of Battelle."
Greene said she jumped at the chance to get her staff's masks decontaminated for free with the Battelle Critical Care Decontamination System™. "It's a godsend," she said. "Being able to send them to Battelle and get them back…there's no reason to throw it away if you can reuse it. You have to take care of what you have. You can't keep going out and buying more. And if everyone would get on board the supply chain can catch up. Hopefully more people will get on board with it. Anyone who doesn't understand the PPE shortage hasn't been watching what's going on."
Greene said she prefers the Battelle sterilized masks to new ones. "When you get them out of the bag, they smell clean," she said. "Out of the box new, it smells industrial."
To receive updates on Battelle Health and more.

As infections and deaths from the pandemic continue to spike throughout the country, Battelle is serving more than large hospital systems with its free service. Users of N95 respirator masks include employees at assisted living facilities, dentists, first responders, corrections officers and more.
Trudy Cordova is the Medical Countermeasures Planner for the New Mexico Bureau of Health Emergency Management. She said the CCDS service has been important for the state. "At first, people didn't want to use it," she said. But then when the supply chain broke down, and they learned that one mask can be decontaminated and used 20 times and it keeps its shape and form, why wouldn't you want to use it?"
Cordova also said the rural nature of the state played a part. "As soon as they started getting it back from FedEx, because they can't physically drive to Rio Rancho, that was a huge hurdle that we were able to clear," she said. "And it's free? It was a no-brainer."
Cordova stresses staying in contact with the various organizations using CCDS to help prolong the life cycle. "I work with them a lot, especially about how to use the mask without getting it contaminated by makeup," she said.
That's a worry for Greene, because she doesn't want makeup stained respirators to be discarded during the decontamination process. Her staff each has six N95s which they rotate during the week, and her strict orders are that one must be worn at all times within the facility, along with gloves and screening practices.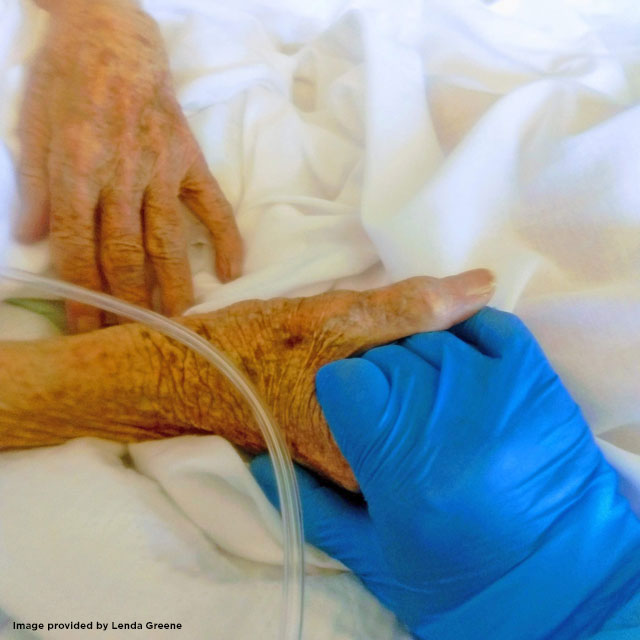 Lenda Greene Holding the Hand of an Elderly COVID-19 Patient at Little Sisters of the Poor
But it's not the biggest worry. Greene, who is a Navajo like many of her residents, says the poverty and rural location of the place makes it difficult to get new N95s. "You cannot buy a human life," she said. "There's nothing more precious. The protection we need is priceless. The Battelle system is the perfect solution for us. We're COVID negative right now, and Battelle is part of the reason why."
After spending more than 100 days in a hotel during her stint, Greene has suffered losses but keeps on going. "I've lost my paramedic flight partner, my uncle and 12 residents," she said. "One of our residents is 105 years old. Ruby, and she's survived the Spanish Flu and this pandemic. I take this personally."