It's been nine weeks since the World Health Organization declared COVID-19 a global pandemic. The availability of personal protection equipment (PPE) has been an important topic throughout the pandemic, as front-line healthcare personnel and emergency responders are at risk for contracting the virus.
Battelle, with years of expertise in infectious diseases, developed a game-changing mask sanitation technology for healthcare systems across the country. Battelle CCDS Critical Care Decontamination System™ can decontaminate thousands of N95 respirators using concentrated, vapor phase hydrogen peroxide.
Since its development and U.S. Food and Drug Administration (FDA) approval in early March, CCDS™ has launched at 48 sites and is decontaminating single-use disposable N95 PPE. CCDS™ technology is capable of decontaminating up to 80,000 masks each day. Decontaminated masks can be safely reused up to 20 times.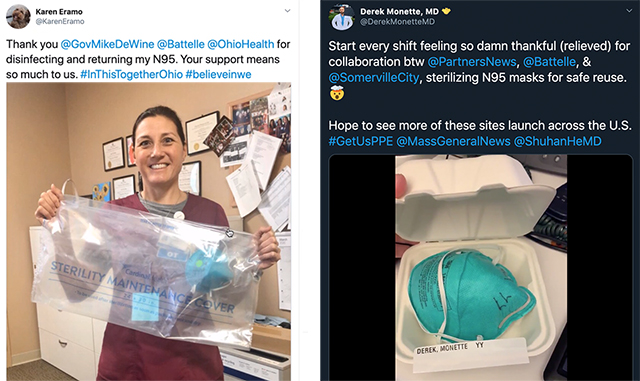 "Having access to appropriate PPE consistently is a huge relief," said Dr. Simi Bhullar from Riverside Methodist Hospital, Ohio. "I have a 6-year-old and a 9-month-old at home. Knowing that I have access to the tools I need to stay safe for myself, for my patients and for my family, I'm certainly very grateful for all of that."
Battelle teams are working increasingly hard to ensure CCDS™ technology is available to healthcare systems, first responders, and nursing home facilities. Currently, Battelle is in the process of working with Veterans Affairs (VA) hospitals and other healthcare clinics to implement the systems.

"For our employees to come to work knowing that they have the PPE they need, that they'll continue to have the PPE that they need, they know that we're looking out for their best interests and protecting them so they can take the best care of patients. It allows them to be solely focused on our mission" said Jeff Fishel, Director of EMS in Delaware County, Ohio.



Hospital systems and other agencies that wish to learn more about this system are asked to visit www.battelle.org/decon or call us at: 800-201-2011. Please review our FAQ before inquiring.