Battelle's Activity Assistant™ rehabilitative technology could help tens of thousands of people recovering from Acquired Brain Injury (ABI) with a revolutionary approach to assessing, monitoring and treating cognitive impairment.

And we're not the only ones who think so. The interactive tool was awarded "Best Overall" in the American Congress of Rehabilitation Medicine (ACRM) LaunchPad Rehab Technology Innovation Competition in October.
Helping Patients with ABI Recover Activities of Daily Living
More than 280,000 people in the U.S. suffer from traumatic brain injuries severe enough to require hospitalization each year as a result of car accidents, falls, injuries sustained during military service or other traumas, according to the CDC. Many of them require extensive, long-term cognitive and occupational therapy to recover their ability to perform activities of daily living (ADLs), such as dressing, personal hygiene activities, food preparation and eating. ABI is one of the leading causes of disabilities in the U.S.; more than 5.3 million Americans currently live with a ABI-related disability.

Rehabilitation and occupational therapy focused on functional activities is the current gold standard for ABI recovery. During therapy, patients practice ADLs with support and feedback from occupational therapists. Feedback as patients attempt functional tasks is an essential part of the recovery process. However, rehabilitation sessions with a licensed occupational therapist are expensive and often limited based on what insurers will agree to reimburse. Providing additional focused practice and feedback could help many patients achieve a fuller recovery and regain more independence.

Battelle's transformative neurotechnology solutions are breaking new ground.

Expanding Treatment Opportunities for ABI Patients
That's where Battelle's Activity Assistant comes in. Activity Assistant was developed by a Battelle team led by Sam Colachis, a biomedical engineer focused on assistive technologies to improve the quality of life for individuals with physical or cognitive challenges. He is a key member of the Battelle NeuroLife® program and played a major role in the development and clinical execution of a neural bypass technology that restores conscious control of the fingers and hands to individuals with spinal cord injuries.

"With a spinal cord injury rehabilitation physician as a father and a neurorehabilitation nurse as a mother, I was quite literally raised with a passion to help people with nervous system injuries," said Sam. "This passion only grew after I suffered from a subdural hematoma due to a sport-related ABI years ago. After this experience, and a fortunately full recovery, I felt a calling to help the many others who have experienced ABIs and other neurological disorders. The Activity Assistant project is one way I hope to make a positive impact on these individuals' lives."


Activity Assistant is a portable, autonomous biofeedback system that provides real-time feedback while patients perform functional activities using real objects. The system uses a camera and object recognition software to monitor patients' movements and interactions with real-world objects. Patients follow guided activities that mirror the kinds of activities that they perform under the supervision of an occupational therapist, such as pouring a glass of water, making a peanut butter and jelly sandwich or sorting medications. As they complete the activity, Activity Assistant provides interactive assistance and feedback.

The system is designed to augment a traditional rehabilitation and occupational therapy (OT) regimen. Activity Assistant provides important advantages for patients and their caregivers, occupational therapists and physicians.
It provides a record of patient performance on different ADLs for assessment and ongoing monitoring. This allows occupational therapists and physicians to quantify progress towards treatment goals. It tracks metrics including reaction time, task completion time and error rates as patients complete activities.

It gives patients additional opportunities to practice the skills they are working on in occupational therapy outside of their OT sessions. Because the system is portable and requires minimal supervision, patients can practice in the clinical environment or at home. Additional practice in functional activities could lead to better outcomes and more independence for many patients.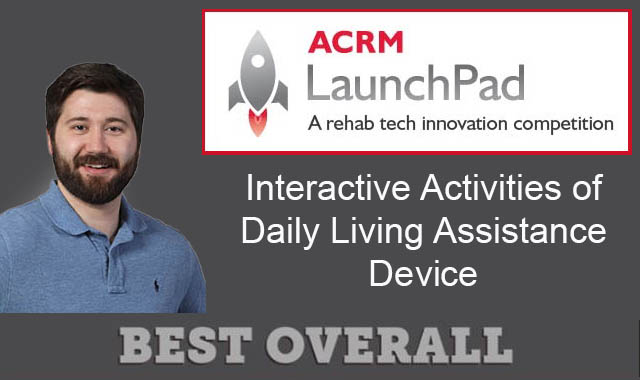 A Revolutionary Therapeutic Approach: Combining the Tactile and the Virtual
The innovative rehabilitation tool took home the "Best Overall" award in the 2020 ACRM LaunchPad competition. The ACRM Rehabilitation Technology Innovation Competition recognizes cutting-edge research and technologies that improve the lives of people with disabilities. Their annual conference (which was held virtually this year on October 19-24) draws thousands of researchers and clinicians.

"We are proud of Sam, the team and this important accomplishment," said Sanjeeth Pai, VP and General Manager of Battelle's Health business. "The Activity Assistant technology is innovative and important work. The recognition at ACRM not only reinforces the value and promise of this technology, it continues to position Battelle and the team as leading edge researchers in the field of Neurotech. Thanks again to Sam and the team and we look forward to progressing Activity Assistant to improve the lives of patients."

Activity Assistant is unique in that it provides both tactile manipulation of real-world objects and immediate feedback and error correction using closed-loop biofeedback technology. This closely mimics the experience of working with a trained occupational therapist. Activity Assistant can even determine the type of error that a patient has made and adjust the difficulty of the activity as patients progress.

Battelle has developed a beta version of the device and is currently testing it with moderate-to-severe ABI patients in a small feasibility study at The Ohio State University Medical Center. The Battelle team is now working on integrating additional ADLs into the program and further optimizing the device. The next step will be a larger clinical study to validate the technology as both an assessment and rehabilitation tool for ABI patients so that it can be transitioned from the lab and into the clinic for eventual productization. Several hospitals and the U.S. military have already expressed interest in the technology.

"There is a clear need to provide ABI survivors with more function-focused therapy that will allow them to become more independent. The Activity Assistant offers a revolutionary solution to this problem that will change the way we treat cognitive impairment and improve quality of life," said Sam.

Disclaimer: This is an investigational device, it's not commercially available, and it has not been cleared or approved by the FDA. Results shown are from studies performed.
Learn More About Battelle's Life-Altering Neurotechnology