Women's History Month is a time to reflect on the past, present and future achievements of visionary women. At Battelle, women have been an integral part of furthering our mission of translating scientific discovery and technology advances into societal benefits for the past 90 years.

We're honoring some the Battelle women who strove to break the glass ceiling as early as the 1920s. Read their stories below.
Annie Norton Battelle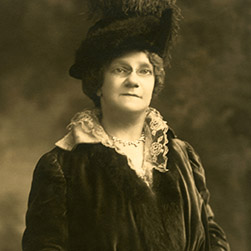 Annie is the mother of our founder, Gordon Battelle, and was a woman ahead of her time. She was the first woman trustee of the Columbus Metropolitan Library, a member of the Board of Directors of the Columbus Women's Club, President of the Women's Republican Club of Ohio, a member of the Executive Board of Children's Hospital, a member of the Assay Commission of 1923, and the Ohio Delegate at Large to the Republican National Convention of 1924.
Annie also was a National Council Member of the National Women's Party, and in 1920, she was among those who protested the Republican National Convention to include endorsement of women's suffrage in their platform and to promise the ratification of suffrage before a nomination was made.
When Annie directed the funds in her estate to go to Battelle Memorial Institute, she more than doubled our company's wealth, ensuring a legacy that has lasted 90 years and counting.
Marjorie Wittwer
Marjorie was the first secretary to work at Battelle. She graduated from Ohio Wesleyan University in 1923 and attended office training school soon after. In 1928, she was hired as the executive secretary to Gerald Fenton, Battelle's first business manager and Battelle board member. In 1943, Marjorie took a two-year leave to join the Women's Army Auxiliary Corps.

Thanks to some good financial advice and her xerography stock, Marjorie was able to accumulate a small fortune. Before her death in 1965, she created a charitable trust to provide income for three beneficiaries. When the last of them died in 1995, the leftover $800,000 from the trust was gifted to the Columbus Foundation.
Martha West
Martha was in charge of Battelle's general files from 1940 to 1971. She played an important role in implementing a better organizational method for the files in 1947. An early Xerox copier was located in the file room and Martha often gave demonstrations to employees and visitors. Martha also acted as Battelle's first nurse.

She retired after 31 years of service. When asked about her journey at Battelle, she said the growth and tremendous changes within the organization stood out most in her memory.
Suzanne Lerner
Suzanne became the first female admitted to the metallurgy graduate program at the New Mexico Institute of Mining and Technology in 1976. She completed her undergraduate degree in biochemistry, and her academic interests led her into the in-situ mining program where she was awarded the first Battelle-Sullivan Fellowship.

While working at Battelle, Suzie studied the leaching of chalcopyrite concentrates, which were subjected to strong shock waves. She was seeking to determine the effects of crystal defects generated by the shock waves on leaching kinetics and bacterial attachment; and the possible effects of enhanced bacterial attachment on leaching kinetics. The ultimate goal of this project was to alter chalcopyrite leaching in lower-grade ore bodies by detonating high explosives.
Diane Hooie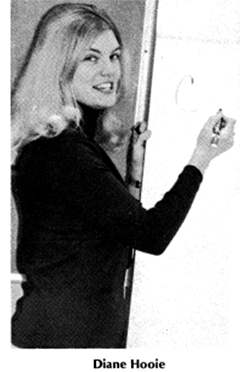 Before STEM (science, technology, engineering and math) education was an official business at Battelle, Diane traveled to local high schools in the 1970s to encourage young women to pursue careers in science and technology through a program sponsored by the National Science Foundation. She gave examples of women in a variety of science careers, provided information about how to prepare for the STEM field, and discussed her own role as a female engineer.
Corinne Buoni
Corinne was hired as a principal research scientist in 1978. She specialized in energy systems and environmental research.

Corinne was named the associate section manager of the Space Systems Section in 1985. Her responsibilities included overseeing research related to improving the space shuttle main engine and plans for space stations and lunar bases. Her group conducted several NASA-sponsored systems studies in the areas of logistics contamination and the applications of various technologies in space. Most notably, she helped develop a lunar construction vehicle for NASA in 1989.