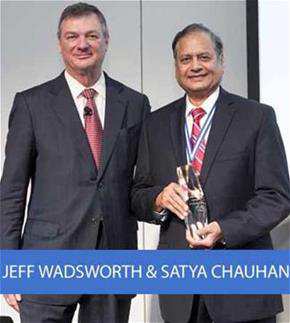 From the final frontier of space to the deepest underground reserves, Battelle Senior Program Director Dr. Satya Chauhan has worked on projects spanning the universe. And his work has not gone unnoticed.

During Battelle's annual Celebration of Solvers event on April 22, Satya received special recognition from Battelle CEO Jeff Wadsworth. Satya was given the CEO's Award, which is Battelle's version of a lifetime achievement award. It recognizes individuals who have made extraordinary contributions to the company.

Satya was called out for his exceptional ability to create, develop and deploy new technologies to solve complex problems. During his 41 years at Battelle, Satya has created, advanced and managed more than 30 intellectual property-based technologies in a number of industries:

• aerospace
• defense
• chemicals
• coal and minerals
• power and utilities
• water and wastewater
• food processing
• petroleum
• biotechnology

Satya was key in implementing new fee for service areas and was directly responsible for developing and managing contracts worth more than $1 billion in the last 10 years alone. He's published more than 200 papers and written chapters in three books. He's listed on 22 U.S. patents and has presented 25 papers at international conferences and 15 invited talks in the last 15 years alone.

See what some of Satya's colleagues have to say about his significant achievements.



Battelle's annual Celebration of Solvers event recognizes the employees who have made outstanding contributions in the past year. This year's honorees range from scientists working on next-generation sequencing forensics capabilities and countermeasures against unmanned aircraft systems to the neurotechnology work making lots of headlines recently.

Join us in congratulating Satya and all those recognized during this year's Celebration of Solvers.