February has been designated as American Heart Month for more than 50 years, and yet the disease consistently remains the nation's No. 1 killer.

Heart disease is largely preventable, and even reversible, when combatted through healthy lifestyle choices. Battelle put on its combat gear in 2011 when we launched our employee wellness program – called InShape. The program provides tools and services to encourage employees to take control of their health.

Each February, InShape focuses on American Heart Month and the American Heart Association's Go Red for Women effort. We celebrated National Wear Red Day on Feb. 5 at our offices around the country.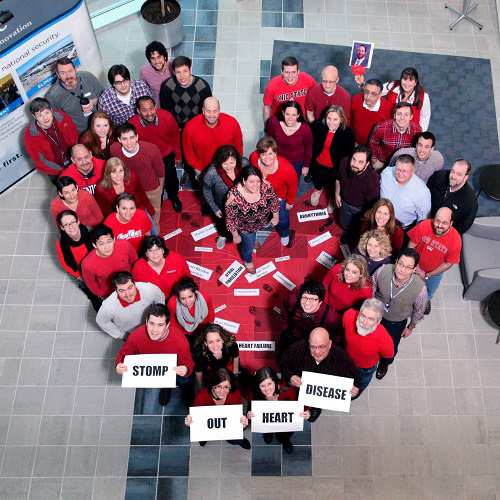 "The things we can do to reduce our risk for heart disease are well-known. Physical activity, proper nutrition, stress management and adequate sleep go a long way in preventing chronic disease," says Rebecca Nguyen, Battelle's Manager of Health Promotion, "Even if you have a family history of heart disease, you can chart your own destiny by consciously making healthy choices every day."

While Battelle's InShape program supports American Heart Month every February, the Battelle Healthcare Colloquium works year-round to improve heart failure patient outcomes. We work one-on-one with hospitals to achieve milestones related to the four domains of heart failure: community, hospital, clinician and science. Our team works with hospitals to review current practices, identify gaps and develop a plan.