Battelle is proud of all our solvers who are working to address the world's most pressing challenges. Each year during Women's History Month, we take an opportunity to recognize some of the women who are making a significant impact – whether it's in the lab, in an office or handling IT challenges.

"The women on this list truly represent what it means to be a trailblazer," said Erica Howat, Market Manager and a co-chair of Battelle's Women's History Month activities. "Though some of the nominees are at the start of their careers and others have been leaders at Battelle for many years, they all are unified by their desire to make a difference and inspire change inside and outside the workplace for years to come."

Battelle's 2017 Women's History Month Honorees are:

Amanda Arcand
Katherine Armitage
Kathy Blackburn
Diane Fox
Jennifer Holdridge
Kathleen Keasler
Katrina King
Marlene Lesko
Marcie Lindner
Martha McCauley
Tina Payne
Ann Louise Sumner
Learn a little bit more about two of these women.
Amanda Arcand
Amanda is an Intelligence Analyst working at a client site in Charlottesville, VA. Her work focuses on chemical, biological, radioactive, nuclear and explosives (CBRNE) defense. Amanda joined Battelle after serving as a Staff Sergeant in the U.S. Army.
"In the vernacular of her former occupation, Amanda leads from the front. She does as she recommends and accepts the consequence of her decisions," states her nomination letter. "Her role requires daily juggling and typically unfolds differently from how she might anticipate. Despite that, she consistently thrives."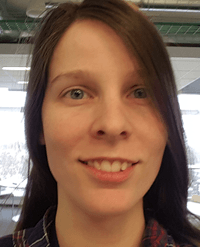 Katherine Armitage
A Cyber Scientist on Battelle's Cyber Innovations team, Katherine distinguishes herself and is truly blazing a trail for other to follow. She began her career at Battelle in 2006 as an intern, and became a member of our research staff upon graduation in 2008. Her skills in cybersecurity and encryption are recognized as exceptional.
"Katherine is in high demand from project managers because of the trust they have in her technical abilities and her ability to deliver on even those with the most significant technical or other challenges," states her nomination letter. "She is someone I'd want on the most technically challenging problems. She strives for excellence, is tenacious in pursuit of a solution, and never drops the ball even while carrying a big load."