What can you learn about the environment by listening? Our human ears are limited, but a method called distributed acoustic sensing (DAS) lets us detect ground vibrations not perceivable by human senses. With DAS, we can analyze seismic signals in the form of acoustic data to get insights into the movement of people, animals and vehicles; earthquake and hydrological activity; wind and weather events; and more.

Battelle is testing applications of DAS technology at a National Ecological Observatory Network (NEON) program ecological field site. The Battelle-led and funded study leverages NEON infrastructure and data analytics expertise from Los Alamos National Laboratory (LANL) to test new applications of a DAS technology from Silixa, called iDAS. Along the way, the research team had to overcome many obstacles—including a global pandemic. Deploying a new technology in a remote location during the COVID pandemic required creative problem solving and plenty of teamwork between the study partners.
What is Distributed Acoustic Sensing?
Distributed acoustic sensing, or DAS, uses fiber optic cable to collect acoustic (sound) data. Pulses of light are sent down the cable and then bounce back to the sensor. Acoustic events disturb the fiber and cause variation in the return signal, known as "backscatter." The backscatter pattern can be analyzed and interpreted to turn light information back into acoustic information. Different types of acoustic events (such as seismic events, foot traffic, vehicles, etc.) have distinctive wave patterns.

With DAS, nearly any existing fiber optic cable—such as cables already in place for telecommunications—can be turned into an acoustic sensor. The system requires limited power (just enough to send and return the light signal) and is not subject to electromagnetic (EM) or radiofrequency (RF) interference. These attributes make DAS ideal for long-term, persistent monitoring of acoustic signals in remote locations.

DAS is already in wide use by the oil and gas industry for pipeline monitoring and seismic sensing. More recently, there has been growing interest in the use of DAS for perimeter security and Smart City applications to monitor traffic and assets.

The Battelle project seeks to validate the use of DAS for conducting new research using existing fiber optic cables and testing advanced analytical methods developed by LANL. These innovative methods could improve the sensitivity and resolution of DAS technologies. That would expand the range of applications DAS could be applied to and provide greater insight into the meaning of acoustic signals.
Listening to the Cattle Roam
Over the two-week study, researchers collected signals at the Central Plains Experimental Range (CPER) in eastern Colorado. CPER is an agricultural experimental station managed by the USDA to study the ecological impact and agricultural utility of different cattle grazing methods. It also hosts a field site for the NEON program—a 30-year, continental-scale ecology program funded by the National Science Foundation (NSF) and managed by Battelle. The DAS study is being conducted under the NEON Assignable Assets Program, which lets outside research groups leverage NEON infrastructure to conduct their own research projects.

The study utilizes a fiber optic cable already in place for other purposes at the NEON field site. While it was never intended for acoustical signaling, Battelle staff identified that they could turn the existing cable into a powerful acoustic sensor. Researchers will be looking for four main signal types: human traffic, cattle movement, earthquake activity and wind activity.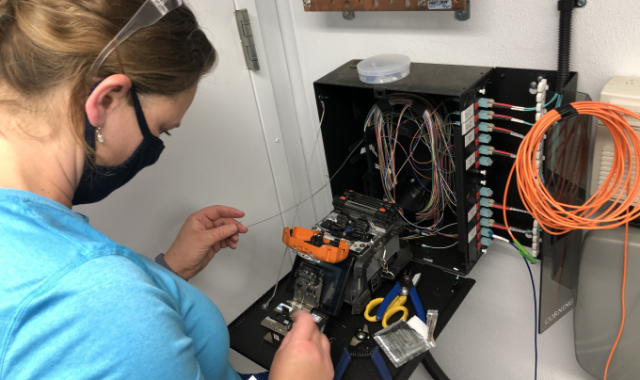 Silixa scientist splices into NEON fiber network.

DAS will enable long-term, persistent monitoring of acoustic activity at the site, which in the future could include geological, hydrological, meteorological and biological (human and animal) activity. Since it utilizes an already existing asset, the study represents a non-invasive option for gathering a powerful new data product from the NEON infrastructure.

The NEON program already collects a wide range of data products at each terrestrial field site, including meteorological data, vegetation structure and composition, community composition and pathogen data for small mammals and insects, soil chemistry, carbon and nutrient fluxes, and more. This is the first time that DAS data has been collected at a NEON field site. Adding acoustic sensing could provide greater insights into the movements of cattle and people on the land. Combining this acoustic data with the existing NEON data products will expand the range of questions that researchers can ask.
Making Science Happen in a Pandemic
Planning a field operation in the midst of the COVID pandemic presented a number of challenges for the research team. Originally, partners from Battelle, LANL and Silixa all planned to convene at CPER to oversee the installation of the Silixa iDAS and a set of geophones from LANL, which were used to validate the iDAS data. Due to travel restrictions, the field installation team was reduced to just three people: a Battelle team member and a Battelle NEON program engineer already at CPER and a Silixa representative who was able to drive in from Montana.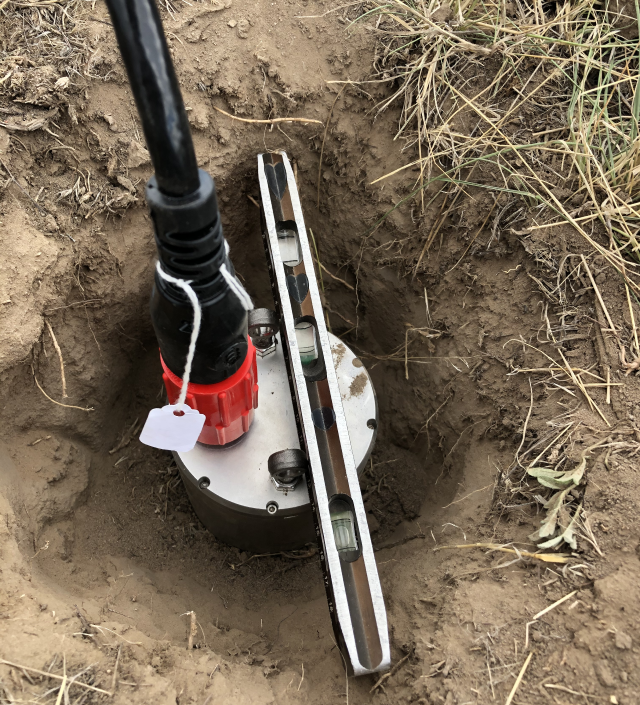 Geophone being installed in the ground.

The Silixa representative worked with the Battelle team members on site to install the iDAS. Because none of the ground team had experience in placing the geophones, a technician at LANL provided remote support by phone and FaceTime to assist in getting the sensor oriented, in the ground and streaming data. During the installation, they advised on geophone location relative to the iDAS setup and provided additional project guidance. The ability to use local staff with technical expertise and have a ground team successfully install geophones at a NEON site with online support from subject matter experts opens new possibilities for efficient sensor placement.
Identifying Promising Applications for DAS Technology
The iDAS proved to be highly effective in sensing local events such as the movements of people, vehicles and cattle and weather events. This suggests that DAS using fiber optic cables could prove to be an effective solution for monitoring the movement of livestock and wildlife and weather events such as high winds, storms and lightning in remote locations. The same methods could be applied to perimeter security, traffic pattern analysis and "Smart City" applications using fiber optic cables already installed for other purposes, with minimal cost and disruption. More work needs to be done to refine the system for seismic sensing. In the future, Battelle hopes to be able to use the installation at CPER to test new analytical methods and tools that could improve sensitivity and enable better analysis and insights.

The project is an example of how Battelle uses internal funding to develop, test and validate new technologies and methods. By bringing together resources from NEON and the National Labs that Battelle manages, along with other industry partners, Battelle is working to accelerate technology transfer and find new applications for emerging methods. The findings from the DAS study, along with other technology transfer projects in the works at Battelle, will echo into the future.

Thanks to our team and partners for making this possible.
Battelle: Forest Banks, Nicholas Romano
Los Alamos National Lab: Dr. Charlotte Rowe, Dr. Neill Symons and Jeremy Webster
Silixa: Dr. Agatha Podrasky and Dr. David Podrasky