Andre Williams first dropped in to use the music studio.

"I heard about it online … I was donating plasma to pay for studio sessions … when I found out about this being free, I started bringing my friends," he said.

Columbus Museum of Art's "Teen Open Studio" began in 2014. Supported by a Battelle STEM Grant, the program serves local teens two days a week, offering a unique space to make art of all kinds. With access to supplies and tools, Andre found stability in creativity.

"I dropped out when I was fifteen … I didn't know how to explain it. I held a lot of stuff in. I had a lot of anger. I would get into a lot of fights in school. I would get suspended a lot. I would be cussing out teachers. Teachers wouldn't understand what was going on."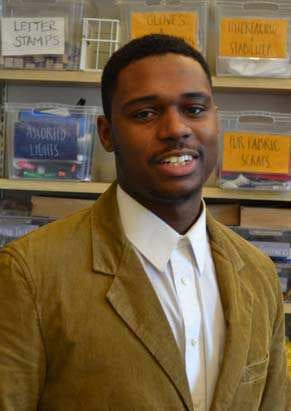 But, after getting a second chance on a truancy charge, he rededicated himself to graduating.

"I went to East (High School), and East just changed for me … I started getting into STEM. When I was getting into STEM, we had to start wearing dress shirts on Tuesdays and Thursdays," said Andre. "I got into fashion. So I started learning about style and what I really like and fit. So I started making shirts from scratch."

Teen Open Studio remained a constant throughout the rest of his high school career, giving him the opportunity to chase his new interests in fashion. Led by "Mr." Mike Voll, the program is centered on the philosophy of "HOMAGO" – Hang Out, Mess Around, Geek Out.

"It's an open studio for you to figure out what it is you like to do. Because stuff is expensive! Studio time is expensive, canvases are expensive, paint is expensive. It can be expensive - especially if you're trying to experiment," said Andre.

He attended the program regularly throughout high school, then came close to aging out of the program. But he found a way to stay involved.

"Mr. Mike came to me a week before my birthday. He was like, 'Andre, we've got a surprise for you.' "

Now, Andre serves as a program mentor. He produces and engineers student music, lends his expertise in sewing, and offers support based on the lessons that he's learned along the way.

"I help people see the things that they don't see in themselves. I've always been like that, but here I get to do that to the extreme," he said.

Andre is currently studying marketing at Columbus State Community College.