The inaugural COSI Science Festival in 2019 was a great event and one in which Battelle was proud to participate.

The Columbus-based celebration aligned perfectly with our mission: to translate scientific discovery and technology advances into societal benefits. From community engagement and scientific discovery to STEM (science, technology, engineering and math) education, we loved every minute of it.

COVID-19 has impacted this year's festival, and as a result, activities have shifted to a digital platform.

Battelle President and CEO Lou Von Thaer helped kick off the festivities in 2019 with a preview of the "flame test balloon." In this demonstration, the addition of metallic salts to the propane gas in the balloon create the color of the explosion. Check it out.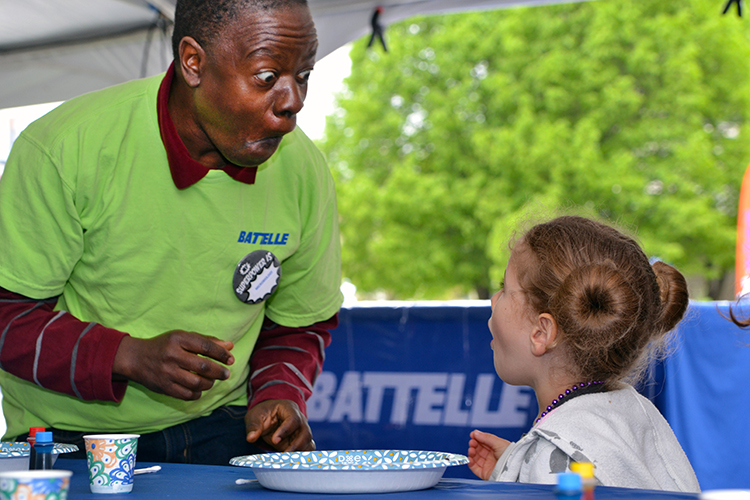 Here are some additional science-related activities you might enjoy from home.

Slime Time
At Battelle's booth in 2019, one activity was a clear favorite for our youngest visitors: do-it-yourself slime! Today, we're sharing our special, easy slime recipe with you.

Download it here, get it in on the fun, and tweet @Battelle to show us your creation.

Animated Explanation
There is no in-person festival this year, but we're putting our science to the test by helping in the fight against COVID-19 and delivering critical equipment to hospital systems. The Battelle CCDS Critical Care Decontamination System™ addresses the current shortage of critical Personal Protective Equipment (PPE) across the country.


Interactive History
More than 90 years ago, a young industrialist named Gordon Battelle had a vision to unite the best scientific minds to benefit humanity. He believed that science, engineering and research could bring competitive advantage to business while making the world a better place. And he was right.

Check out this interactive timeline to see what innovations in which Battelle played a key role that might surprise you.

We can't wait to see everyone in person at the 2021 COSI Science Festival.